Department & Programs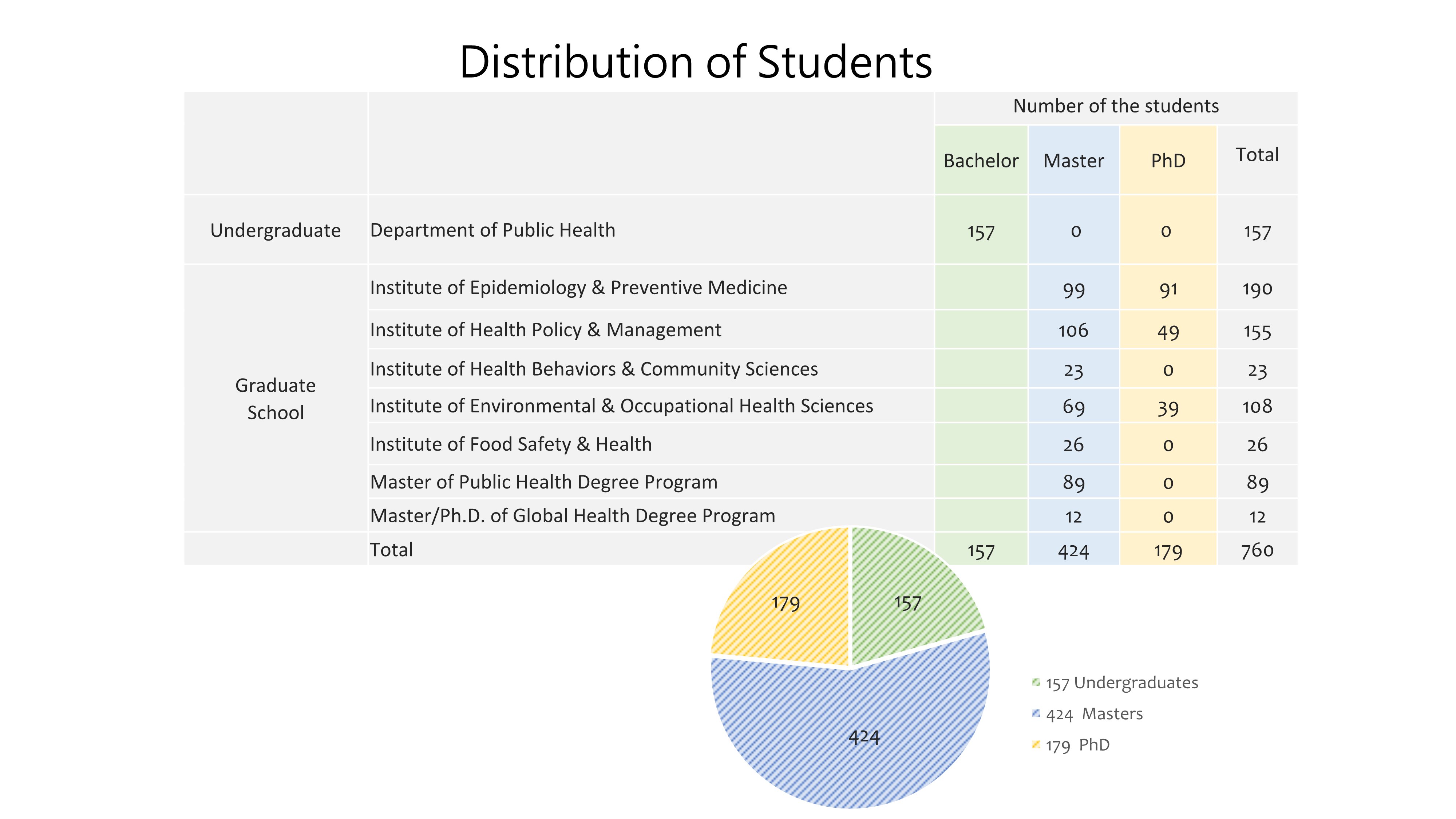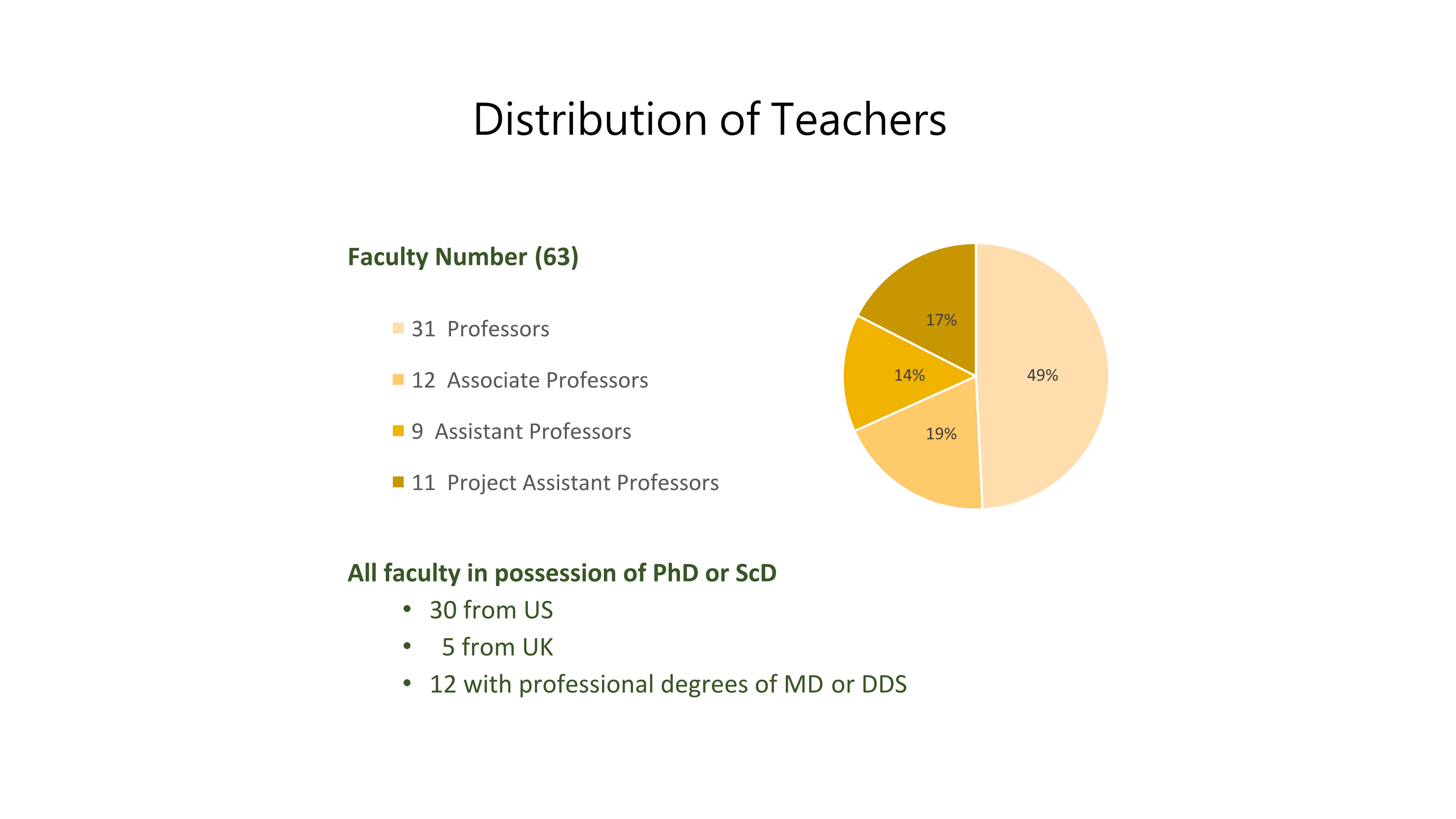 Departments
Departmental aims:
• To cultivate students with the requisite knowledge and skills of a public health professional.
• To guide ambitious people into pursuing a career in a public health related area.
Educational objectives:
• To cultivate professionals in public health with expert knowledge, practical ability, and a global perspective, so as to promote health for all.
Core values:
• Compassion
• Integrity
• Teamwork
• Equality
The DPH has cultivated numerous talented experts in public health since its inception. Our alumni are widely distributed throughout various circles. They contribute abundantly in the areas of health administration, environmental health organization, and public health education in research institutes, non-profit organizations and the commercial R&D departments of various industries, where they hold positions as professional staff members, research experts, instructors and managers. At the DPH, we continuously perform self-evaluation and strive to strengthen our contribution to worldwide public health, both through research and by providing quality teaching that prepares our students to be talented experts versed in public health theory and practice.
---
The Institute of Health Policy and Management, National Taiwan University (NTU) adheres to the founding purposes for promoting public health policies, creating of a healthy living environment, building a fair and efficient health system and improving the performance of healthcare organizations. Through teaching, research, and service provision, the Institute aims to enhance the health and welfare of people in Taiwan and all mankind. The educational goals are to foster future leaders of health policy and health services management who possess health and human rights concepts, global visions, as well as professionalism.
---
Faculty members in the institute investigate causes, mechanisms, and prevention measures of issues related to environmental and occupational health. Research topics cover subjects ranging from molecular level to epidemiological level. Multidisciplinary approach is used to address physical, chemical, biological, ergonomics, and sociobehavioral hazards. The Institute offers advanced educational programs of master and doctoral degrees and trains professionals to work in governmental agencies and industries. The faculty and students with diverse background are specialized in tackling important public health problems that require integrated contributions of multiple specialties. The main research themes include:
1. Environmental and occupational medicine;
2. Occupational hygiene;
3. Environmental and occupational epidemiology;
4. Environmental toxicology;
5. Aerosol technology;
6. Erogonimics;
7. Exposure assessment;
8. Risk assessment;
9. Analytiial method development for emerging pollutants;
10. Omics studies;
11. Medical entomology and vector control;
12. Hazard control (including ventilation).
A few example research contributions in recent years by investigators in the Institute include: Meteorological Conditions Regulate PM2.5 Toxicity in the Vicinity of a Petrochemical Complex; Traffic-Related Air Pollution Exposure were Associated with Chronic Kidney Disease in Elderly Population; Higher Exposure to Perfluoroalkyl Substances in Taiwan than the Western Countries; Prenatal Perfluorooctyl Sulfonate Exposure were linked to DNA Hypomethylation; Indoor Air Quality of Bakeries Needed to be Improved.
---
The Institute of Epidemiology and Preventive Medicine at College of Public Health was merged in 2010 as a unit of institute. The Institute offers comprehensive development from basic doctrine (epidemiology) to practical application (preventive medicine). In addition, methodology theory and application (biostatistics) is the core knowledge for epidemiology and preventive medicine. Each aspect complements two others, and three are indispensable to disease prevention and the maintenance of health. The institute created three divisions for student admission: Epidemiology, Biostatistics, and Preventive Medicine.
As a leading authority in the field of public health, epidemiology, biostatistics, and preventive medicine, the Institute of Epidemiology and Preventive Medicine set the following goals:
1. Establishment of a healthcare think-tank and resource center for Taiwan;
2. Installation of an integrated infrastructure and platform for project biostatistical application and promotion;
3. Development of innovative biostatistical methodologies associated with epidemiology and preventive medicine fields;
4. Cultivating undergraduate and graduate students with requisite knowledge and skill of public health;
Providing to guide ambitious people getting into public health related area.
---
The establishment of this institute corresponds to the demand of five core knowledge cultivation for the talent fostering education in public health. In addition to corresponding to the demand of Taiwan society, the College of Public Health drafted a long-term program at the initial foundation in 1993 to establish a behavior and social science related institute in the future. After establishing the college for nearly 20 years, the "Health Policy and Management Institute" among the four institutes has accumulated considerable teaching and search achievement and energy in their development of social and behavior science field which is sufficient to take one big step in forming an independent institute on the organizational level with unique and distinguished disciplinary quality, thereby to conduct interdisciplinary research with characteristics of professional domain.
---
The establishment of Institute of Food Safety and Health (IFSH) was approved by the Ministry of Education on March 29th, 2017, and the processes were finalized on June 10th, 2017. The mission of this institute is to study and resolve food safety issues based on scientific evidences, focusing on the whole food supply chain. The IFSH has a master program with 15 students per year, which contains three tracks based on the backgrounds of students: Food Health, Food Health Risk, and Generic Food Safety.
The goal of the IFSH is to train students solidly with academic knowledge, practical subjects, and problem-solving skills in food safety. The IFSH emphasizes the identification of physical, chemical, and biological hazards, and their health risk controls in both food processing and the supply chains. Thus, demonstrating capabilities in basic toxicology, risk assessment and management, and regulations are required on the graduates.
Programs
The Global Health Program (GHP) is a CEPH accredited program targeting international talent. The GHP allows you to have an enriching education with interesting fieldwork, a graduate degree, and the opportunity to have a real impact.
GHP offers a Master of Science (MS) and Doctor of Philosophy (Ph.D.) degree in Global Health. The program equips students with research expertise capable of providing scientific evidence to solve pressing public health issues. Featuring a full English program comprised entirely of international students, we encourage our students to act locally and think globally. GHP also allows the possibility for you to publish your results by giving you access to a supply of rich research resources.
The College of Public Health are members or have affiliations with the following organizations.
· Delta Omega: Chapter Delta Chi Honorary Society
· CUGH (Consortium of Universities for Global Health)
· ASPPH (Association for Schools and Programs of Public Health)
· Global Health Workshop of APRU (Association of Pacific Rim Universities)
· APACPH (Asia-Pacific Academic Consortium for Public Health)
---
The MPH program was established in October in 2007. This program is different from other master degrees provided by regular departments or graduate institutes such as Master of Science (M.S.) which emphasizes development of masters for academic research. The characteristics of this MPH program are to integrate resources in CPH, combine theory and practice, and cultivate scientific evidences and strategic thinking of public health professionals.
Three mutually related fields, including Community Health Scientific Field, Environmental and Occupational Health Field, and Health policy and Management Field were planned first when this program was started in 2007. Since 2010, the size of student body has expanded to 40, and the program increased to five disciplinary fields, including Biostatistics, Epidemiology and Preventive Medicine, Social and Behavioral Sciences, Health Services Administration, and Environmental Health Sciences.
National Taiwan University Master of Public Health (NTU MPH) Degree Program is the first multi-departmental master program in Taiwan. Our MPH program is widely known in the country as the first professional credential for leadership in public health in Taiwan. It is designed for public health professionals who have the greatest passion in devoting to the progressions in public health of humankind.
NTU MPH program integrates cross discipline resources within CPH in order to train people to lead in the field of public health. The core value of MPH is CITE, which stands for compassion, integrity, teamwork, and equality. These are the qualities that we firmly believe a public health professional should possess and with which one may develop into a responsible social being. We hope that all of our faculty and students will hold CITE as the core spirit while doing research and practicing works about public health. Our mission is to establish a highly professional, secure, fair, and effective medical system and environment that fit our public health needs. To pursue this mission, MPH program provides resourceful and rigorous education in order to cultivate frontline professionals in public practice who emphasize human rights, possess global perspective and aspire to assure the welfare of human beings.