First large genetic study of bipolar disorder in Asian populations by Professor Po-Hsiu Kuo and global teams
First large genetic study of bipolar disorder in Asian populations launches with a collaboration between Professor Po-Hsiu Kuo and global teams
Bipolar disorder (BP) is a severe multifactorial neuropsychiatric disorder with a prevalence rate of approximately 1-2%. Its clear genetic architecture is yet to be identified. Nearly 60 percent of the world's population resides in Asian countries, but only 10 percent of participants of genetic studies are of Asian descent. Since every single population has different genetic variants, the inclusion of gene discovery for bipolar research of Asian population is quite essential. And that disparity is even greater in studies of psychiatric conditions, where participants are almost all of European ancestry, even though serious mental illness affects all human populations evenly. This lack of representation of the world's population in genetic datasets leaves out a huge amount of genomic variation, limiting what scientists can learn about the biological basis of mental disorders. The team hopes to uncover genetic markers of bipolar disorder, which may point towards the biological causes and mechanisms underlying this condition. By focusing on Asian populations, the scientists aim to find markers that are more common in these groups than in others, which may highlight genetic roots of the disorder that are shared across other populations around the world. Better insight into the causes of bipolar disorder from this research could one day lead to new and better treatments.
A-Big-Net project is the first large genetic study of bipolar disorder in Asian populations, a collaboration between experts from the Broad Institute of MIT and Harvard (led by Hailiang Huang), National Taiwan University (led by Po-Hsiu Kuo), Virginia Commonwealth University (led by Kenneth Kendler), and Johns Hopkins University (led by Peter Zandi). The National Institute of Mental Health provides funding for this 5 years research. This network includes National Institute of Mental Health and NeuroSciences in India, Institute of Mental Health in Singapore, Korea University College of Medicine, and Pakistan's team. They will work together to recruit the participants, sequence the genomes, analyze the data, and build a network for rapid data-sharing.
"There haven't been any sizable bipolar genetic studies from Asian populations. If this were to continue, we risk the possibility that therapeutic innovations might exclude large segments of the global population which are under-represented in psychiatric genetics." said Hailiang Huang, the project's leader, and an Assistant Professor at Massachusetts General Hospital and Harvard Medical School.
"Taiwan is often excluded from a number of major international organizations and actions. We're very glad to be part of the global diversity initiative and to contribute to enhancing our understanding of a severe psychiatric disorder and reducing health inequity in the long run," said the project's co-lead, Po-Hsiu Kuo, Associate Dean of College of Public Health, and a Professor at Institute of Epidemiology and Preventive Medicine, National Taiwan University. The Taiwan team of this project will collect patients and controls in northern, central and southern Taiwan, which co-lead by Doctor Hsi-Chung Chen (Department of psychiatry, National Taiwan University Hospital), and Professor Wei J. Chen (Director of Center for Neuropsychiatric Research in National Health Research Institutes).
A-BIG-NET will collect and analyze DNA from 27,500 patients diagnosed with the psychiatric condition and 15,000 controls in Asia with a recently developed sequencing technology, which deeply sequences the exome and more broadly decodes the rest of the genome. We will also collect clinical information and a range of environmental risk factors, which will permit us to further clarify how genes and environment jointly act or interact to produce bipolar disorder. The data generated from this project can then be jointly analyzed with data from European, African, and Latino for cross-populations and cross-disorders studies. We anticipate that the result of A-BIG-NET would largely contribute to enhancing our knowledge of the molecular and genetic basis of bipolar disorder.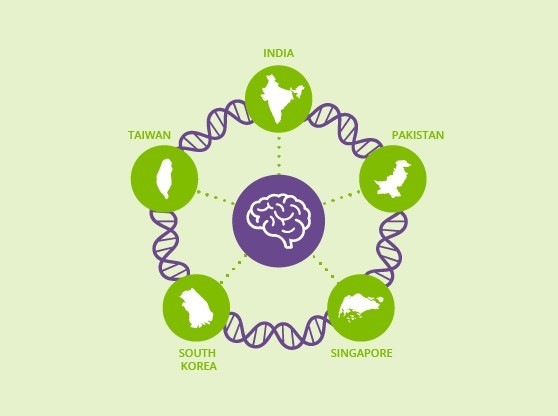 A-Big-Net research network, committed to the research of bipolar disorder in Asian populations including five Asian countries. (Credit: Ricardo Job-Reese)
A full story please refer to this link:
https://www.broadinstitute.org/news/first-large-genetic-study-bipolar-disorder-asian-populations-launches
█ Contact person: Tong-Tong, Liou [A-Big-Net Project Coordinator]
Institute of Epidemiology and Preventive Medicine,
College of Public Health, National Taiwan University
(O): +886-2-33668015
(E): angelaliou0910@gmail.com