【Congratulations!】 NTU MPH Alumnus Yi-ting Yang Awarded the NTU Social Devotion Special Award for the 111th Academic Year
Yi-ting Yang, Master of Public Health (MPH) of National Taiwan University, is the recipient of NTU's Outstanding Alumni Award of the School of Public Health this year. Yang has been actively involved with social work, community service, and global health. The founder and secretary-general of "Love Binti International," an International Non-Governmental Organization (INGO) active since 2015, Yang first set foot in Africa after graduating from Chung Yuan Christian University in 2015 and has since then become actively involved in the long-term international volunteer service plan. Observing how African females suffered from menstruation and health disparities, Yang initiated Love Binti International, an INGO that has cumulatively assisted and served more than 148,000 people across seven countries. This project won "Becoming Aces", awarded by The News Lens, in 2021. Yang later expanded her volunteer endeavors into a joint project with the International Cooperation and Development Fund (ICDF) of the Republic of Uganda. Her initiative of "Love Binti International" will soon reach Denmark and USA in the near future.
Yang has been invited to many organizations and schools —e.g., MOMO, MicroSoft, Tsu-Chi, WanHai Charity Foundation—to share her Africa aid experiences. She also shared her aid experiences with Taipei Economic & Cultural Offices, the Taipei Representative Office in Denmark, and the Embassy of the Republic of China in the Kingdom of Eswatini. The list continues to grow. Additionally, Yang represented Taiwan in attending the UN HLPF High-level Political Forum on Sustainable Development (SDGs) in 2018, UN CSW66 The Commission on the Status of Women (CSW) in 2022 for virtual assistance.
Yang's thesis "Menstrual Health Education Program on Wellbeing and Behavior Change During Menstruation Among Adolescent Girls in Rural Uganda" is a study about educational interventions in Uganda. Her project explores public health interventions in relation to women's social learning and health disparities at the personal and community levels. After obtaining the MPH degree, Yang continued her academic journey in the International Doctoral Program of Climate Change and Sustainable Development (IPCS) at NTU.
Yang was nominated by the College of Sciences, NTU, and awarded the NTU Social Devotion Special Award in the NTU anniversary ceremony of the 111th academic year.
▲Yi-Ting Yang, 111th Academic Year NTU Social Devotion Special Award awardee (second from the right) and Shou-Hsia Cheng (second from the left)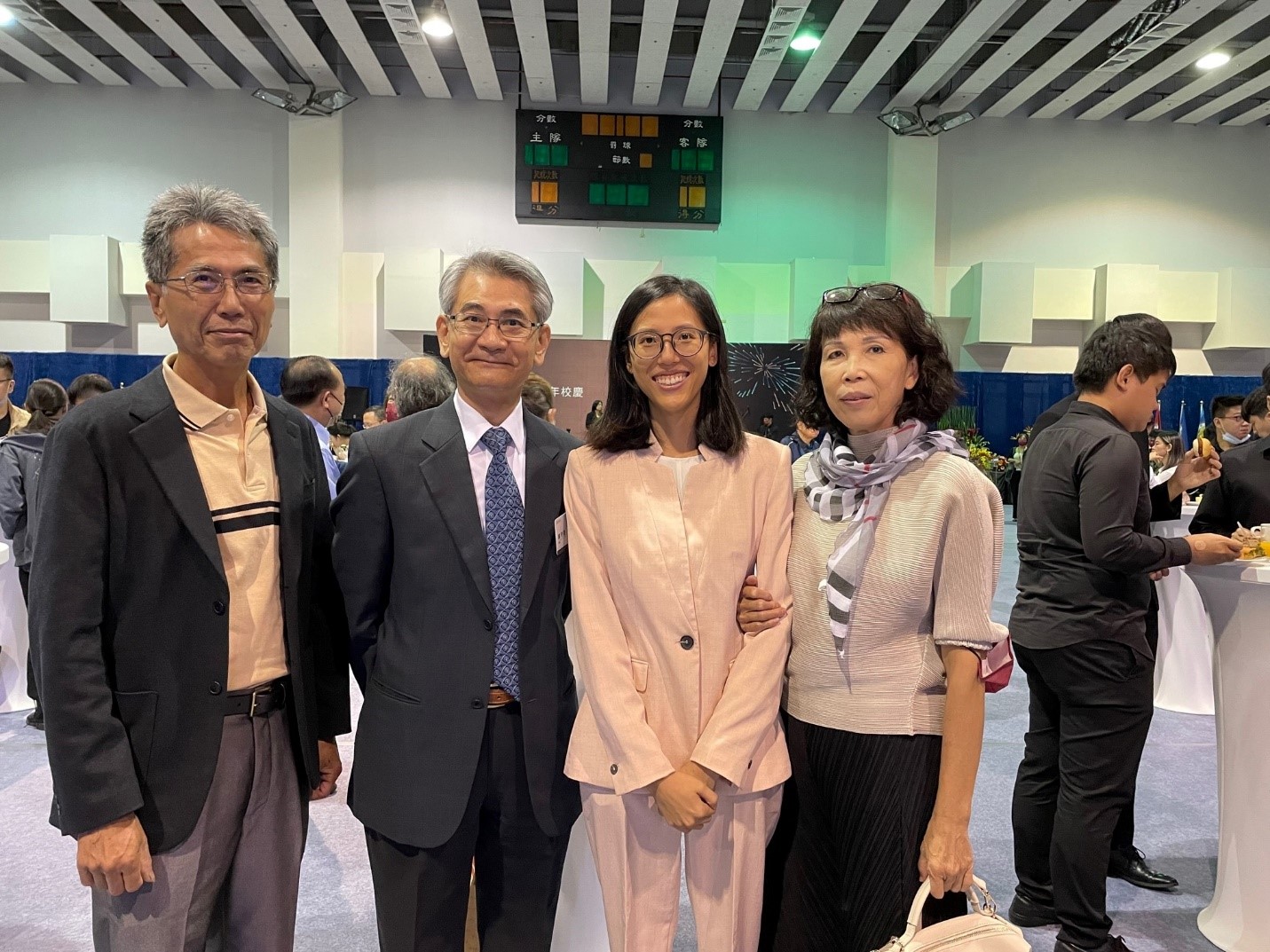 ▲Yi-Ting Yang, 111th Academic Year NTU Social Devotion Special Award awardee (second from the right) and Shou-Hsia Cheng (second from the left)